Sponsored Article
Park Systems Introduces Park NX12 for Unsurpassed Affordable High Resolution Nanoscale Imaging Required for Advanced Analytical Chemistry And Electrochemistry Research
Park Systems, world-leading manufacturer of Atomic Force Microscopes (AFM), just announced new Park NX12, an affordable versatile platform for analytical chemistry and electrochemistry researchers and multi-user facilities. Park NX12 features a versatile Inverted Optical Microscope (IOM) based SPM platform for SICM, SECM, and SECCM, in addition to Atomic Force Microscopy for research on a broad range of materials from organic to inorganic, transparent to opaque, soft to hard.
"We just purchased Park NX12 because we wanted a high quality research grade, easy to use, versatile, and high resolution AFM/SICM/STM platform," commented Prof. Yixian Wang from the Yixiam Wang Laboratory at Cal State LA. "The Park NX12 was the only comprehensive platform that could perform all SPM techniques (AFM/STM/Pipette based SICM) while also utilizing IOM, for the nanoscale measurement flexibility we needed. We are happy with a very affordable product with so many features and such accurate data."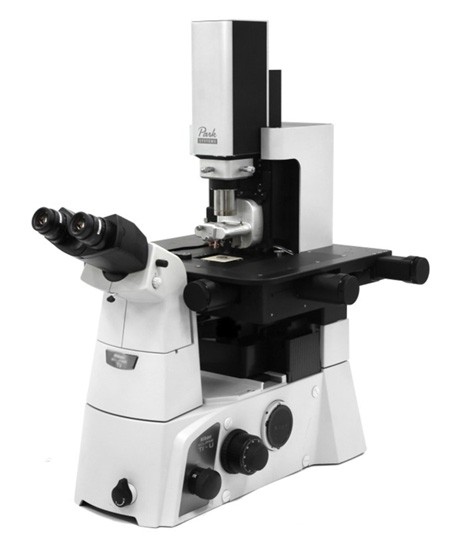 Park NX12 combines NX10 base with NX-Bio's XY stage that mounts on an inverted optical microscope and supports all of the available modes and options for NX10 with enhanced optics. The Inverted Optical Microscope (IOM) feature is designed to work with transparent samples using a pipette based technique and utilizes PinPoint™ mode in liquid for nanomechanical characterization.
"Park NX12 is vastly superior to existing solutions by offering the best value research grade high-end IOM based SPM platform, guaranteeing researchers highest resolution pipette based measurements," commented Keibock Lee, President, Park Systems. "Ideally suited for multi-user facilities, the unique modular design is a versatile platform designed for further development."
Park NX12 is suited for advanced research on materials such as membranes, organic devices and electronics, and biological and pathological samples. There are outside institution inquiries for characterization of biomedical devices and materials.
"Our multi-user research lab uses Park NX-Bio and can see the strong advantages in the versatile and comprehensive design of Park NX12," commented Prof. Lane Baker, James F. Jackson Associate Professor of Chemistry, Indiana University. "Park Systems is a customer-centric manufacturer who carefully listens to their customers' needs and develops new products based on customer input."
Park NX12 also solves the challenges in material characterization for clean and renewable energy applications and sensors by providing enough resolution of existing SECM techniques for high resolution detection of interfacial transport and surface chemistry. It also has studious handling for the pipette probes used in SECM characterization and similarly transparent materials such as nanopore membranes (for fuel cells) and biomembranes (for sensors).
Park NX12 is ideal for many industry research applications including electro and analytical chemistry, battery and ESS (Energy storing system), nano pore structure, water purification & treatment, hydrogel study, fluorescence tagging, electrophysiology, neurochemistry, biomimetic, tissue engineering, and biophysics.
Park NX12 offers ease of use in both air and liquid, a solution and platform for pipette based SPM techniques (e.g. SICM, SECM, SECCM), and an AFM/optics solutions with broad optical access to the scanning probe and standard features of Park's line of Atomic Force Microscope products including SmartScan™, revolutionary point-and-click fully automated AFM software.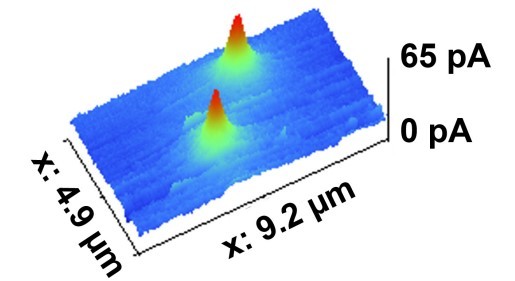 A polyimide (PI) membrane with track-etched nanopores was mounted on a diffusion cell separating a top chamber and a bottom chamber. Top chamber contained 100 mM KCl. Bottom chamber contained 100 mM KCl + 5 mM Ruthenium hexamine (an electrochemically active molecule). Ruhex molecules will then diffuse from the bottom chamber to the top chamber by the concentration gradient. In SICM topography, two nanopores can be clearly seen. The molecular flux of Ruhex is detected by SECM, as evident by the increased Faradaic current over the nanopores.
Park Systems is a world-leading manufacturer of atomic force microscopy systems with a complete range of products for researchers and industry engineers in chemistry, materials, physics, life sciences, semiconductor and data storage. Park's products, used by over a thousand institutions worldwide, provide the highest data accuracy at nanoscale resolution, superior productivity, and lowest operating cost thanks to its unique technology and innovative engineering. Park Systems, founded in 1997, holds over 32 patents related to AFM technology, including True Non-Contact Mode™ using decoupled XY and Z scanners, PTR measurements for data storage application, NX-Bio technology using Scanning ion conductance microscopy (SICM) on live cell, 3D AFM, and fully automated AFM operation software (SmartScan™).