Sponsored Article
Greetings from Sang-il Park, Ph.D. Chairman and CEO Park Systems Corporation
"Park Systems Is a Knowledgeintensive Business With a Strong Focus On R & D," Comments Dr. Sang-il Park, "This IPO Demonstrates our Ambition to take a Quantum Leap Forward as a Premier Nanomeasurement Company, Based on our Technological Competitiveness and a Uniquely Differentiated Product Line. We Have a Long History of Providing Accuracy and Unmatched Superiority in AFM Technology, Which Has Been the Hallmark for our Sustained Growth."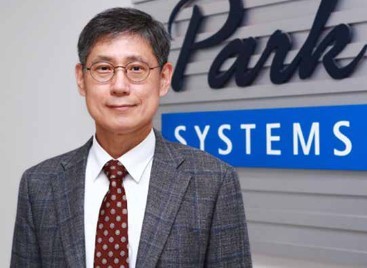 At the close of a very meaningful year, I send warm greetings to all of you and some great news. Despite the deep recession and challenging economic environment affecting the stock markets, our company achieved solid performance in 2015, culminating in the announcement on December 17th, that we went public on the KOSDAQ stock market.
As we examine the industry closely, we see a steadily growing world-wide acceptance that our atomic force microscopes are far superior to any of the competition. This has resulted in a surge of orders from major new clients including Apple, JPL, TSMC and others. The joint technology development contract we signed earlier this year with imec, the world's top semiconductor consortium, has produced significant orders for production process equipment from major semiconductor giants including Micron, ST Microelectronics and others. In addition, NX-Hivac, our high-vacuum equipment is being sold to IBM Fishkill, attracting a great deal of attention. We also signed a sales agent agreement with JEOL, a specialized electron microscope company in Japan which is expected to improve our profile and provide major assistance in overall performance improvement within that country.
Much like previous years, I gave lectures on technology at various institutions including Stanford Univ., Lawrence Berkeley National Lab., Texas Instruments, Applied Materials, Toray Research Center, JEOL and others throughout the year. In addition, I gave lectures on company startup and entrepreneurship at Hanyang University, Yonsei University, Seoul National University, and Chung-Ang University. I also participated in the Presidential Advisory Council for Science and Technology, Future Preparation Committee, and writing of the national future strategy at KAIST, where I emphasized the importance of scientific technology and technology commercialization.
Looking back over this past year and remembering some of these precious moments, I humbly express my appreciation to everyone who has helped us to achieve these milestones. Our sincere pledge to you for the coming year is to meet your every expectation with focus and determination. I send best wishes for you and your family and hope you have a very happy new year!