Park AFM Scholarship Awards - Pengcheng Chen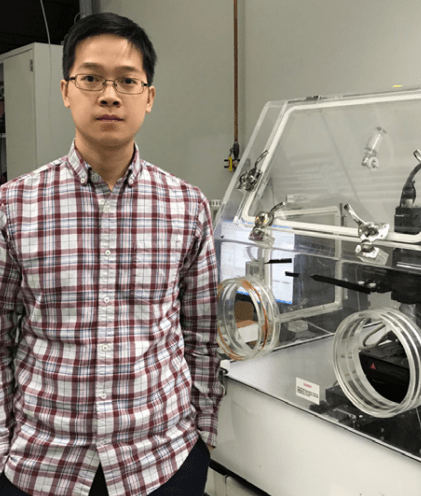 "Park XE-150 AFM is a very useful and convenient tool to perform scanning probe lithography experiments. The lithography mode in XEP software offers the highest degree of freedom to design specific lithography patterns. The software allows for controlling the movement of XYZ piezos in a precise and programmed way, which is crucial in our study for printing polymer nanoreactors on target substrates."
Pengcheng Chen received his B.S. and M.S. in Polymer Science from Zhejiang University (ZJU), China. His research work is currently focused on developing combinatorial library of nanoparticles for catalyst screening. This research involves synthesizing nanostructures with scanning probe lithographic method, and is important for use in future applications, like pharmaceutical synthesis and energy conversion.
Abstract: Polyelemental nanoparticle libraries
Multimetallic nanoparticles are useful in many fields, yet there are no effective strategies for synthesizing libraries of such structures, in which architectures can be explored in a systematic and site-specific manner. The absence of these capabilities precludes the possibility of comprehensively exploring such systems. We present systematic studies of individual polyelemental particle systems, in which composition and size can be independently controlled and structure formation (alloy versus phase-separated state) can be understood. We made libraries consisting of every combination of five metallic elements (Au, Ag, Co, Cu, and Ni) through polymer nanoreactor–mediated synthesis. Important insight into the factors that lead to alloy formation and phase segregation at the nanoscale were obtained, and routes to libraries of nanostructures that cannot be made by conventional methods were developed.
What is the most useful part of using Park AFM for your research? Please explain what features are most useful and why?
"Park XE-150 AFM is a very useful and convenient tool to perform scanning probe lithography experiments. The lithography mode in XEP software offers the highest degree of freedom to design specific lithography patterns. The software allows for controlling the movement of XYZ piezos in a precise and programmed way, which is crucial in our study for printing polymer nanoreactors on target substrates."
Summarize the research you are doing and explain briefly how it will impact society. Why is your research important?
Metal nanoparticles are commonly used as catalysts in scientific research and industrial manufacturing processes because they provide chemical transformations with superior reactivity and selectivity. Multimetallic nanoparticle catalysts, however, remain due to the difficulty in synthesizing them in pure forms while encompasses the enormous compositional and structural parameter space. My research mainly focuses on developing methods for combinatorially synthesizing complex multicomponent nanoparticle systems and exploring its application in high-throughput catalyst screening. This research relies on scanning probe lithography to generate arrays of spatially separated polymer nanoreactors to synthesize individual nanoparticles. It frees the experimentalists from making numerous batches of uniform nanoparticles as each nanoparticle is locally defined by unique synthetic conditions in the polymer nanoreactors. Through parallel screening of the vast number of nanoparticles, novel catalytic nanomaterials can be discovered in a systematic way, avoiding the inefficient process of serially making and characterizing nanoparticles. Overall, my research work will offer the opportunity for rapid identification of next generation multimetallic catalysts, which will increase the sustainability and efficiency of chemical processes that leads to benefits for both academic and industrial communities.